Mineral Collecting
Mineral collecting is a fun outdoor activity. Adults and kids alike will delight in the chance to dig for buried treasure, and bring home some colourful gems of your very own!
Our collection sites
There are three sites where you can collect minerals in Highlands East at no charge. Two of the sites (Schickler and Desmont) require you to get a permission to collect form and are located near Wilberforce. Directions will be given with the permission to collect form. You do not need permission to collect at the Gibson Road site.
Getting permission to collect
When you have decided which sites (Desmont and/or Schickler) you wish to visit and what dates you will be visiting, complete the Mineral Collection Waiver and Application form online, one for each adult over 18 years. Permission forms are valid for two consecutive days.
We will email you back a signed and dated permission to collect form.
Please plan ahead and allow three business days for the processing of your permission to collect form.
Minerals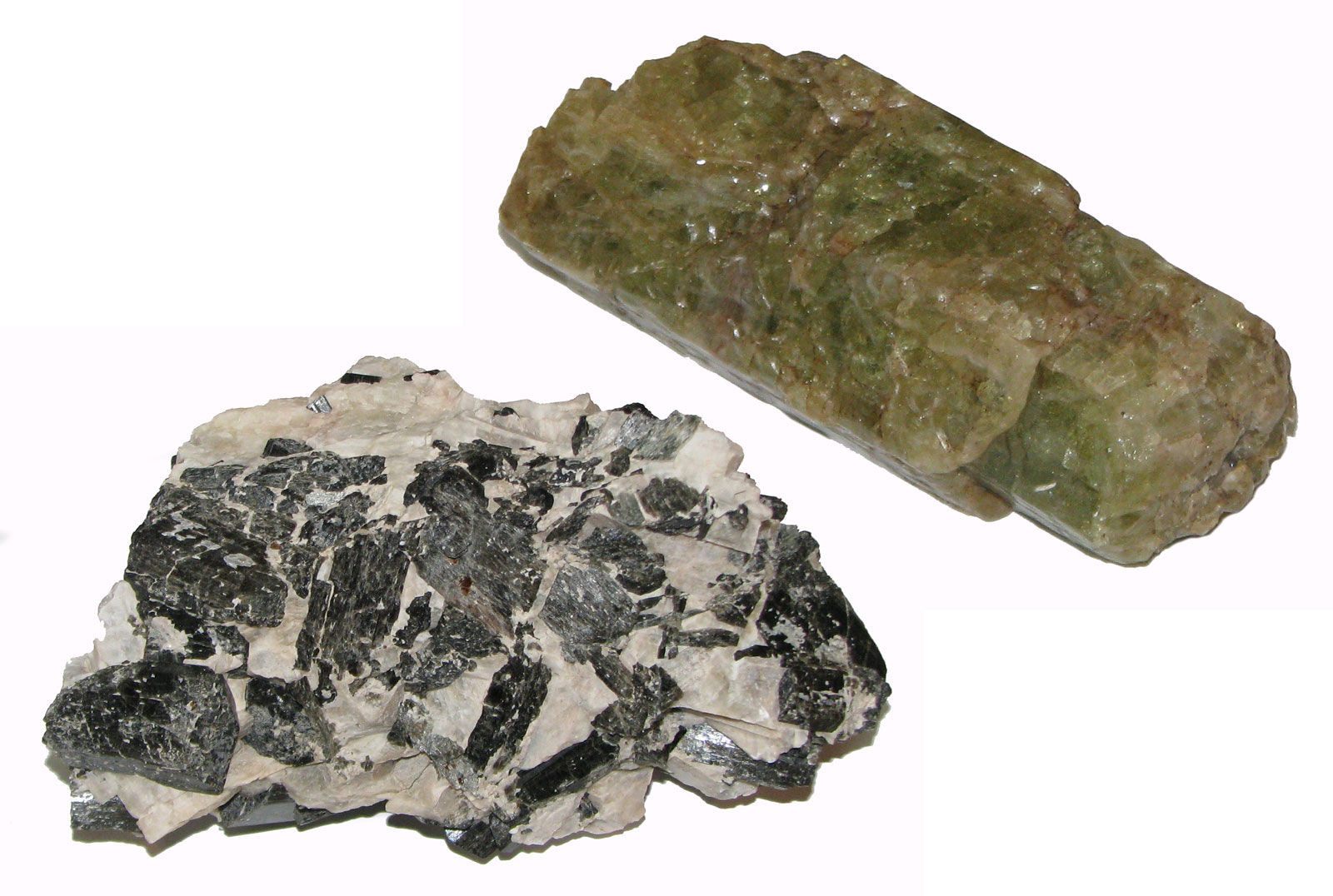 Highlands East is proud to be the first municipality in Ontario to take steps to secure public mineral collecting sites.
We are world famous for fine specimens of:
gem green apatite
deep purple fluorite
Large crystals of collector minerals like:
mica
tremolite
zircon
titanite
feldspar
And rare and unusual species like:
fluororichterite
stillwellite
Locations
Schickler Fluorite Occurrence
This site was explored for fluorite in the early-to-mid 1900s, and you can still easily find gemmy fluorite in colours ranging from colourless to rose-red, to deep amethyst purple in white calcite on the rock piles.
Associated with fluorite in the calcite are:
hexagonal crystals of red/green apatite
yellow scapolite
buff coloured feldspar
green pyroxene
The Schickler occurrence is only one potential collecting site of many on the 400 acre Crown property – come prepared to do some exploring!
Desmont Mine (Homer Yellowknife Prospect)
This site has been explored for various rare elements in the past, but as was so often the case, nothing of economic potential was found. There are a number of small workings on the property where you can find beautiful and unusual mineral specimens.
It has long been a popular rock hound destination for:
hexagonal plates of silvery molybdenite
emerald green diopside
rare mineral stillwellite (which can be identified as small (5mm), tabular crystals and coatings with a distinctive maroon-red colour)
These, as well as other minerals are found in orange and white calcite near the workings.
Gibsons Road East Occurrence (Titanite Hill)
The Gibson's Road Occurrence is a great place for beginner rockhounds to get a feel for digging in Highlands East. More experienced collectors will also be thrilled to find extraordinary examples of many of classic mineral species that have made this area famous.
The main collecting area is clearly defined and mineralization occurs close to the surface so there should be little difficulty in finding good specimens - even just by sifting through what others have left behind!
Mineral types
Minerals you can find in weathered calcite veins cutting gneiss and amphibolite:
calcite
large crystals of gem green apatite
buff coloured feldspar,
lustrous brown titanite
black fluororichterite
microcline
biotite mica
Numerous similar occurrences in the Tory Hill area have been worked over the past hundred years for phosphate (apatite) for use in fertilizer, and for mineral specimens - which have found their way into major collections all over the world and made the area famous. This location was just discovered a few years ago so there is still potential for exciting new discoveries.
Directions
From the intersection of Highway 118 and County Road 503 turn north on Highway 118 for 200 metres to Gibson's Road. At the end of Gibson's Road, an unassumed road (trail) begins. You can park here or if you have a high clearance vehicle you can continue driving. Park at the side of the road where there is room to let other vehicles by (past #1274) or keep going to the vehicle landing area where there is space for a few vehicles to park.
Pits and trenches on the left are part of the Millar Apatite Mine workings. Cross the trail, over a small ridge, through a low swampy area and then up the hill to the main collector workings.
Look for elongated depressions in the earth surrounding the main exposure that could indicate the presence of a weathered calcite vein. Dig through the organic material and glacial debris that accumulates in these depressions until you start to see sticky brown soil with bits of calcite or crystals. Take it slow from here and work by hand to avoid damaging crystal specimens. At one time, these cracks in the surrounding rock were completely filled with solid calcite, but over time, the calcite has dissolved away leaving crystals of the other, more resistant minerals 'floating' in the dirt. Some of the solid calcite also remains and may contain crystals "in matrix". The best strategy, especially for beginners, is usually to start where it is clear someone else has had some success and continue from there.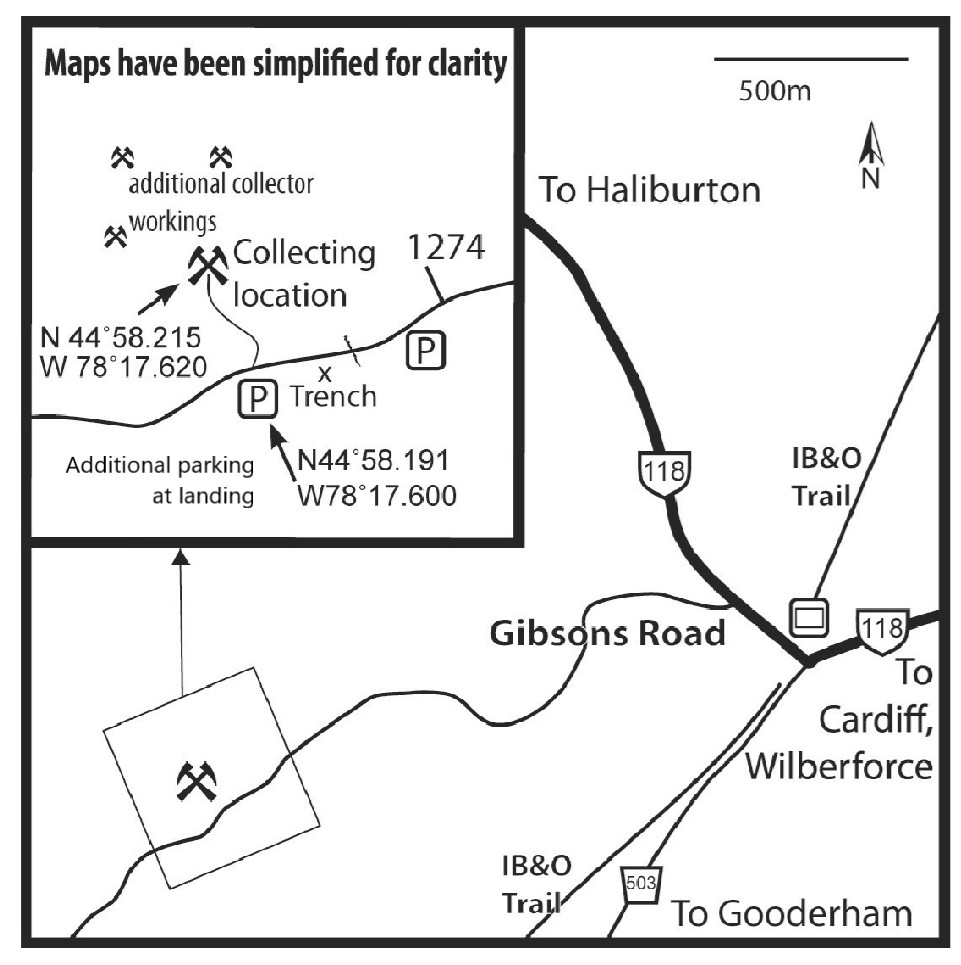 Know the risks
Mineral collecting can be a safe and fun experience for the whole family, but it is your responsibility to assess the risks for you, anyone accompanying you, and take appropriate steps to avoid them. Following any of the instructions or partaking in any activity described here is entirely at your own risk.
Bear Lake Diggings closed to the public
Please note that the Bear Lake Diggings are no longer open to the public and is now private property.
Guided tours
Greenmantle Farms
As fun as poking around in the woods looking for buried treasure can be, you may want to get some local advice to point you in the right direction. At Greenmantle Farms you can take a guided tour of some great natural exposures of local minerals and get some insight into their formation. Mineral collecting is not permitted at this site. Cameras are welcome, but hammers are not.
Yours Outdoors
For a more complete guided package, check out the offerings of Yours Outdoors – a local outdoor experience company. From weekend getaways with guided tours and collecting excursions, to full vacation packages, your host, Barry Martin, will help make sure your Highlands experience rocks.